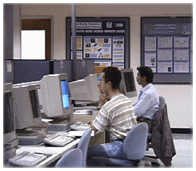 VRES - Virtual Representation of Existing Sites

Considerable progress has been made in Virtual Reality (VR) as well as in Augmented Reality (AR) lately. While VR immerses the user inside a virtual world with no connection to the real world outside, AR aims at augmenting the user's perception of the real world by overlaying or composing 3D virtual objects with their real-world counterparts. The VRES project (Virtual Representation of Existing Sites) targets the integration of two complementary resources:

(a) the design of multimode sensors and the data acquisition procedures for the construction of models of virtual and augmented worlds, and

(b) the development of a software environment designed to generate appropriate virtual reality data from the measurements obtained by the sensors.

The target application is the inspection of dams by an advanced sub-marine teleoperated unit. A system of this nature is presently being developed at IREQ and is part of a Hydro-Quebec strategic program.

Project title
Investigator(s)
Level
No project available