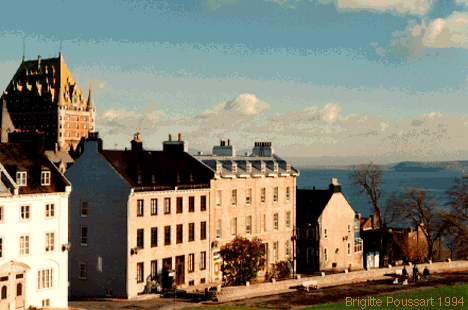 uébec city, in the province of Québec, is the cradle of French civilization on our continent. It is the only walled city in North America, and one of the few cities in the world designated by UNESCO as a World Heritage Site.






nside the imposing fortifications of Old Québec, picture-book streets and ancient stone buildings, with dormer windows and brightly painted shutters, take you back through the pages of history.
| | | |
| --- | --- | --- |
| | | |

harming shops and candle-lit restaurants are a delight to the eye and the palate. Many old buildings are now inns or bed-and-breakfast places. Take a stroll on the board walk and watch ships in the St. Lawrence far below. Walk the ramparts of the Citadelle, then the nearby Plains of Abraham where British and French troops clashed in 1759. Outside the old walls rises the modern city where most residents live and work. The clubs and restaurants along Grande Allée provide a glittering night life.





Adapted from a text from Przemyslaw Prusinkiewicz
---
About Québec City

---
This introduction to Québec is maintained by the

Computer Vision and Systems Laboratory of Laval University.
---
Cette page est aussi disponible en français.